Posted on
November 15th, 2017
by Mary Lord

What do computer pioneer Ada Lovelace, Hitler's atomic bomb effort, and the Slinky have in common?
All are among the National Science Teachers Association's inaugural list of Best STEM Books.
Culled from nearly 300 submissions, the top picks for 2017 range from picture books to histories, covering topics as diverse as coding and the popular toy Slinky. Each work was chosen, NSTA explains, because it "reinforces STEM thinking—modeling innovation, demonstrating authentic problem-solving and assimilation of new ideas, all while exploring solutions that show progressive change or improvement."
Best STEM Books reflects the growing interest by teachers in differentiating between the purely science books on the annual roster of NSTA's Outstanding Science Trade Books (jointly created with the Children's Book Council) and those that encompass engineering, technology, mathematics, invention,  and STEM more broadly.
Winnowing the top 31 titles from hundreds of worthy entrants was "a fascinating process," says volunteer reviewer Pamela Lottero-Perdue, a professor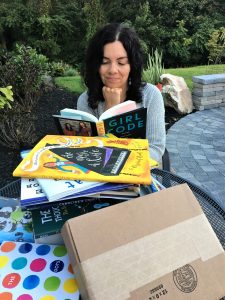 of STEM education at Towson University and chair of the American Association for Engineering Education's P-12 Committee. (Photo, right)
To be selected, a book had to "break free of 'how to' in order to represent STEM thinking," she explained in debuting the list at NSTA's regional conference in Baltimore, Md., in October. "I read a lot this year about poop," she laughed, pointing to several exemplars. "They're really interesting… but not STEM."
The books that made the cut reflect "the kind of open-ended thinking we want students to engage in," explained Lottero-Perdue. Among her favorites for teaching P-12 engineering is TickTock Banneker's Clock, a picture book that describes how self-taught scientist Benjamin Banneker, inspired by a pocket watch he'd once seen, built a strike clock using a pocket knife. She also enjoyed The Inventor's Secret, about inventors Thomas Edison and Henry Ford and h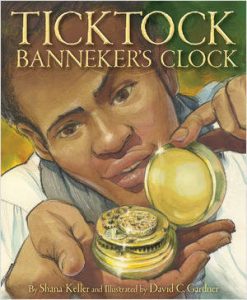 ow they persevered, designed, learned from failure, and redesigned.
Several titles, including Whoosh! – about SuperSoaker creator Lonnie Johnson's stream of inventions – focus on entrepreneurship. Another group explores computer science, including the picture book Hello Ruby: Adventures in Coding and several biographies about English mathematician Ada Lovelace. History buffs will enjoy Sabotage; The Mission to Destroy Hitler's Atomic Bomb, a page-turning true tale of nine Norwegian commandos who, faced with Germany's invasion, change the course of World War II as they explore multiple solutions to life-threatening problems.
Historic figures aren't the only subjects whose biographies made the 2017 list. Breakthrough described how Jack Andraka, who as an openly gay high school student in Maryland invented an inexpensive test for pancreatic cancer, persists to develop several early-cancer detection methods and win national recognition.
Best STEM Books is a joint project of several organizations: ASEE, the International Technology and Engineering Educators Association, NSTA, the Society of Elementary Presidential Awardees, and the Children's Book Council.
Filed under: K-12 Outreach Programs, Special Features, Web Resources
Tags: Ada Lovelace, ASEE, Benjamin Banneker, Best STEM Books, children's books, coding, Engineering, Jack Andraka, NSTA, Pamela Lottero-Perdue, STEM education, Web Resources