Posted on
February 14th, 2017
by Mary Lord

Do you have a great hands-on activity or strategy that incorporates engineering into your STEM or literacy lessons? Are your students developing engineering habits of mind? Share them with engineering educators and classroom teachers at ASEE's 2017 PreK-12 Workshop in Columbus, Ohio, on June 24.

The theme for this year's workshop is "Inspiring the Next Generation to Take Flight with PreK-12 Engineering Education." Engineering educators and STEM teachers are invited to submit workshop proposals. (See details below).
In addition, all educators are invited to display their original ideas and innovative models that show how they integrate engineering and STEM at the PreK-12 Curriculum Showcase that concludes the workshop. We've also added a new Counselor's Connection – dedicated sessions for college counselors to learn strategies to support positive learning experiences and increase understanding of careers in engineering.
This one-of-a-kind event wouldn't be complete without you, so don't miss out on this opportunity to boost your professional development! REGISTER HERE to attend the 2017 workshop ($35 for ASEE members). Check out the 2016 program of events. Not an ASEE member? Join HERE.
To submit a workshop proposal, please use the following steps: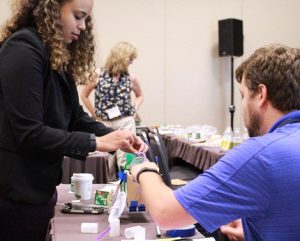 1) Login to the ASEE.org site. If you are not an ASEE member, select Don't have an Account? to create a profile.
2) Select 'Upcoming Workshops'
3) Select '2017 ASEE Workshop on PreK-12 Engineering Education'
4) Select 'Submit a Workshop' or 'Request a Workshop' if submit is not shown
5) Fill out all of the requested information and select 'create' when finished. Presenters are entered in the next step.
6) Add presenters from the ASEE database. If you have presenters who are not ASEE members, all of their information will be requested.
7) Done! Sit back and wait for mid-March notification on whether your proposal was accepted.
If you have any questions while going through this process, please contact either Martha Cyr (mcyr@wpi.edu) or Lisa Jennings (l.jennings@asee.org).
Photo, above: 2016 ASEE PreK-12 Workshop participants do a design challenge. Copyright Michelle Bersabal/ASEE
Filed under: For Teachers, K-12 Outreach Programs, Special Features
Tags: 2017 ASEE K-12 Workshop, Continuing Education, early learning STEM, prodessional learning for teachers, Programs for Teachers, STEM teacher professional development, Teacher Training