Posted on
December 29th, 2009
by ASEE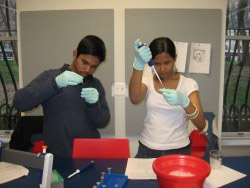 The American Museum of Natural History in New York City offers a number of science workshops and courses for students and teachers alike. Check out the ones coming up this January and February:
Courses in the Sciences
Level: students grades 9-12. Dates: January 4–February 12
Costs: Once per week course: $150; Twice per week course: $300 (Half-price and fee waivers available based on need.)
Description: Venture into vast regions of space, dive deep into the microscopic world of DNA, or track the evolution of dinosaurs. This unique program lets New York City high school students  interested in science choose from a broad range of topics including biodiversity, genetics, anthropology, earth science, astronomy, and more.
Robots in Space III (Advanced)
Level: students grades 2-3. Dates: Tues-Thurs, Jan. 4–Feb. 12; 4–5:30 pm
Costs: $90
Description: If you've already taken Robots in Space I and II, or are already familiar with the Lego Mindstorms kit, this class will take you to the next level. Take on the biggest challenge in the robot series. To register, call (212) 769-5200 or click here. For more information, call (212) 313-7893.
Astrofavorites: The Earth and Space Collection
Level: students pre-K and K; and grades 1 and 2. Dates: Three Saturdays: January 16, 23, 30 11 am–12:30 pm (pre-K and K) and 1:30–3 pm (1st and 2nd graders)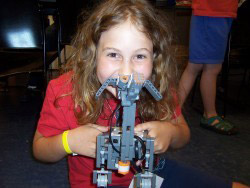 Cost: $90
Description: Explore the wonders of our planet and solar system in these popular children's workshops. Enjoy "Earthly Adventures," "Solar System Adventures," and "The Sun and Its Energy" on three consecutive Saturdays.
To register, call (212) 769-5200 or click here. For more information, call (212) 313-7893.
Fossils and DNA Camp
Level: students  grades 4 and 5. Dates: Monday – Friday, Feb. 15 – 19, 9 – 4 p.m. Cost: $450.
Description: Who are we, and where do we come from? Take an exciting journey through human evolution and learn about our ancestors from early primates to the first hominids. Explore the Spitzer Hall of Human Origins, learn about DNA, and use fossil evidence – and have fun doing it!
To register, call (212) 769-5200 or click here. For more information, call (212) 313-7893.
Journey to the Stars Educator Evening
Level: Educators. Date: February 10, 2010. Cost: Free.
Registration: To reserve a space, please call Central Reservations at 212-769-5200.
Description: Educators are invited to view the new Space Show, Journey to the Stars. Featuring extraordinary images from telescopes on the ground and in space and never-before-seen visualizations of physics-based simulations, the Journey to the Stars launches visitors through space and time. Tour familiar stellar formations, explore new celestial mysteries, and discover the fascinating, unfolding story that connects us to the stars.
The evening of activities includes a catered reception, a discussion of the film with scientists and production staff, and the sharing of curriculum materials and other resources to support teaching science and field trips with students.
For more educator resources — workshops, online and graduate courses, curriculum materials — visit the AMNH website.
Filed under: For Teachers, Grades 6-8, Grades 9-12, Grades K-5, K-12 Outreach Programs
Tags: Events, Grades 2-3, Grades 9-12, Grades Pre K-2, Museum, Programs for Students, Programs for Teachers