Posted on
March 14th, 2018
by Mary Lord

Science Fair, a documentary about the brilliant teens competing in the Science Talent Search, was a hit at the 2018 Sundance Film Festival.
One developed a mathematical model that predicts the spread of "late blight" fungus, which caused the Irish Potato Famine and still damages billions of dollars' worth of crops annually. Another examined the response of lung cells to fluids used in electronic cigarettes and vaping.
Such research would be impressive coming from a university lab. But these brilliant investigators are high school students whose projects just won first and second place in America's oldest and most prestigious science and math competition. Past participants have gone on to win national science awards and even the Nobel Prize.
Run by the Society for Science & the Public, publisher of Science News, the 2018 Regeneron Science Talent Search whittled 40 finalists from a 300 STS Scholars selected from 1,800 entrants. The finalists, 15 of whom were young women, came from 31 schools in 15 states and represented a broad diversity of scientific disciplines.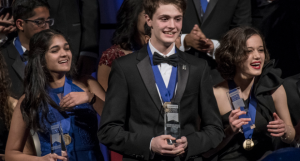 The finalists, who were honored at a gala in Washington, D.C., on March 13, took home $1.8 million in awards. First-place winner Benjy Firester, (photo, above), 18, from Hunter College High School in New York City, took home $250,000 for his development of a mathematical model which predicts how disease data and weather patterns could spread spores of "late blight" fungus that destroys potatoes and other crops. Second place honors and $175,000 went to Natalia Orlovsky, 18, of Garnet Valley High School in Glens Falls, Pa., for her examination of the response of lung epithelial cells to fluids used in vaping, a practice promoted as a safer alternative to smoking cigarettes. Third place winner Isani Singh, 18, of Cherry Hills High School in Aurora, Colo., took home $150,000 for her work toward determining that women with Turner Syndrome (TS), a genetic abnormality in which the second sex chromosome is missing, do have some cells with two X chromosomes.
Other finalists engineered a microwave that spares salads when heating a dinner plate full of different foods (4th place winner Muhammad Rahman from Portland, Oregon) and created a bionic knee brace that improves the wearer's gait while reducing back pain (9th place winner Syamantek Payra from Clear Brook High School in Friendswood, Texas).
Don't rush to applaud the U.S. education system that nurtured such talents, however. "Unfortunately, these young people are the exception that proves the rule," notes Claus von Zastrow in an Education Commission of the States blog post entitled Making Elementary School an Engine of Scientific Achievement. He notes that seven of the nine top STS students in 2016 were children of STEM professionals, and most credited their parents for inspiring them to pursue STEM when they were very young – an advantage that few American children enjoy.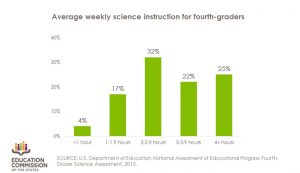 "States can help level the playing field by adopting policies to encourage more science in the elementary grades," von Zastrow suggests. That may prove a heavy lift, given the current lack of time devoted to science instruction in the typical fourth grade classroom.
Filed under: K-12 Education News, K-12 Outreach Programs, Special Features
Tags: Education Commission of the States, Grades 9-12, Intel Science Talent Search, movies, Regeneron Science Talent Search, research for students, Resources for Teachers, Science Fair Projects, STEM education, Videos