Posted on
March 15th, 2010
by ASEE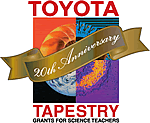 Toyota has announced nearly $550,000 in grants to 79 K-12 educators across the country as a part of its 2010 TAPESTRY program.
Sponsored by Toyota Motor Sales, U.S.A., Inc. and administered by the National Science Teachers Association, the Toyota TAPESTRY grants fund innovative science proposals submitted by educators in three areas: environmental science; physical science; and integrating literacy and science. Since its inception in 1990, the program has provided more than $9.2 million in grants to more than 1,147 teams of teachers.
This year's winners were selected from more than 500 applications. Fifty teachers will receive grants of up to $10,000 each, and 29 receive mini grants of up to $2,500 each.
Read summaries of this year's winning projects.
Filed under: For Teachers, K-12 Education News, Web Resources
Tags: Grant Opportunities, Scholarships and Fellowships, Teacher Awards