For California girls who may never have met an engineer, Techbridge provides an introduction -- and more. Professional women serve as role models, visiting schools, giving workplace tours, and engaging students in hands-on projects. Techbridge mentors the mentors, too, ensuring they know how to inspire student passion for learning.

Despite the growing importance of information technology, schools - and students - still resist computer science curricula in K-12 public schools. A recent conference suggested ways to combat the stereotypes and increase appeal.


Packed with Fun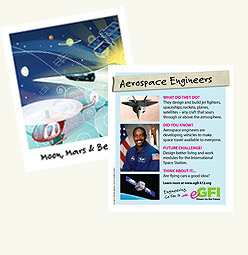 Flashcards for the Classroom


Coming soon - the colorful,

new

eGFI cards! The 15 cards from our homepage have been brought to life and sized just right (4" x 5"). An accompanying teachers guide offers fresh activities to inspire your students. The cards also encourage discussion of such challenges as ocean pollution, cyber-security, and robot development. Teacher tested and approved, the cards will be available soon on our eGFI store.
Email us and we will notify you when the cards are available for purchase.