STEM clubs are sprouting up in schools across the nation, cultivating curiosity about STEM subjects and building a pipeline of much needed future professionals. These clubs appeal to a wide array of students and are a great way to develop teamwork, leadership, and other life skills.


Learn More
LaMar Queen, a teacher at the Los Angeles Academy, has boosted his eighth-graders' math grades through his use of rap music -- which he writes and performs -- to help them learn the rules of algebra.

asee 2010 K-12 workshop in

louisville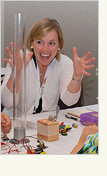 Teachers Get Into It
More than 300 engineering educators from across the country attended ASEE's

seventh annual

Workshop on K-12 Engineering Education

in Louisville, Ky, on July 19, enjoying workshops, lectures, and demonstrations.

Take a look at our slideshow of the hands-on fun, downloadable pdfs of the presentations, and a recap of the issues discussed at the morning panel and focus groups.
Thanks for your response
In May, we asked for feedback on our first year of the eGFI website and newsletters. The thoughtful insights we received from 400 educators will help us make eGFI even more helpful and appealing.
As promised, we entered all respondents' names into a drawing for five $25 Amazon gift cards. Congratulations to our lucky winners:

Mary F. Carr

, 6-8th grade math, K.D. Waldo Middle School, Aurora, Illinois;

Rocklin Cavendar

, 6-8th grade technology, Merrimack Valley Middle School, Penacook, N.H.;

Kellye Marshall

, first-grade Gifted and Talented, Dunbar Primary School, Lufkin, TX;

Bruce Wellman

, 10th grade aerospace and engineering Chemistry and 12th grade engineering design, Olathe Northwest High School, Olathe, KS; and a

9-12th grade engineering and technology teacher

from Monticello High School, Monticello, N.Y.