From helping impoverished trash workers in Argentina to transforming the way engineering students learn, Prof. Caroline Baillie has championed social causes and challenged colleagues and students to make ethics a core concern.

Learn More
Read about Solar Electric Light Fund
Read about Engineers for a Sustainable World
NASA software engineer Chuck Lostroscio has created a computer game-like tool called the Kennedy Launch Academy Simulation System, or KLASS, which allows students to assume the role of a mission control engineer while practicing math, science, and engineering skills.


MEET AN
eGFI

sTUDENT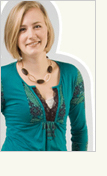 Inspired by an Idea
"I instantly knew that was something I wanted to be part of."
-- Georgia Tech Environment Engineering student Elyse Rester describes learning of a clean water project in rural Africa using solar pumps.

a chance to win aN AMAZON gift Card!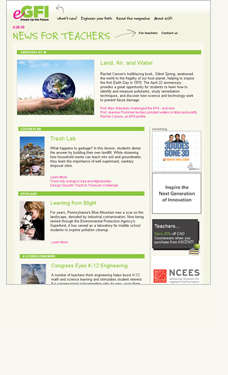 How Are We Doing?
As is true for many educators, eGFI's school year is drawing to a close. But check your in-box for our bi-weekly June and July summer newsletters. 2009-10 marked the first year of our Website and teachers' newsletter, so we'd love some feedback: How did we do? What did you like? What would you like to see more of?




Look for the

eGFI questionnaire in a separate email tomorrow, Wednesday, May 26. As our thank you, we'll enter all respondents' names into a drawing for

five $25 Amazon gift cards

. Look for the announcements of results by mid-June.