What environmental factors should consumers consider in buying a new car, and what are the advantages and disadvantages of various alternative fuels? Students inform themselves about the choices, then role play as sellers and buyers of "green" cars.
At Seabury Hall school on the island of Maui, teachers Kathleen Ireland and Martin Emde have enlisted the entire freshman and sophomore classes and 35 seniors in a uniquely Hawaiian energy solution using nuts from the kukui tree.


High-school agricultural science classes are changing to reflect the high-tech aspects of today's farming. Schools in nine states have launched a challenging national curriculum called CASE, or Curriculum for Agricultural Science Education, which takes an activity- and projects-based approach combined with more rigorous math and science.

SPECIAL OFFER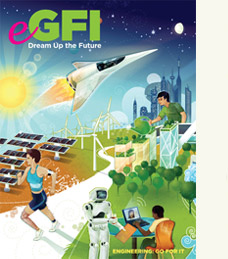 In celebration of National Engineers Week, February 14-20, 2010, eGFI is offering a free poster and 5 additional copies of eGFI magazine for every order of 25 magazines ($100). To order, go to the eGFI store, request any multiple of 25 magazines, and type "EWeek" in the box marked "Other." Leave the poster quantity blank -- we'll know to send you one! This offer will be valid through February 20, 2010.