Last year, Brittany Hinyard's eighth graders became astronomers. They built solar system models, used software to make planets gravitate toward or apart from each other, and sought information on satellites. Teaching that stresses inquiry, multiple science disciplines, and team learning requires an extra commitment. But for Hinyard, it has brought professional satisfaction -- and prestige.
A Texas bioengineer believes exposure to university-level research can help better prepare high school students for college science and engineering. He's testing that notion with the help from a $500,000 National Science Foundation grant that brings students into his neuro-tissue lab.
HELLO FACEBOOK!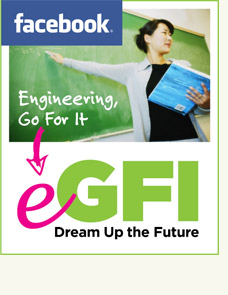 Join Our Page

Attention, teachers: We've just launched a new Facebook page called Teach K-12 Engineering with eGFI! On it you'll find more lesson plans, class activities, feature stories, and K-12 education news. Check it out and tell us what you think!
Learn More