Posted on
October 9th, 2011
by Mary Lord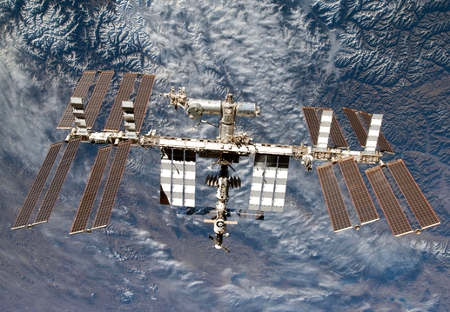 Move aside, cute kitties, angry birds, and other viral video hits. A new NASA contest could turn science into the next YouTube sensation.
The Student Space Lab Challenge, the competition announced Monday by NASA, YouTube, computer manufacturer Lenovo, and other partners, offers students from 14 to 18 years of age a chance to pitch experiments for the International Space Station as it orbits 250 miles above earth. Unlike most science contests, individuals or teams don't have to perform their zero-gravity experiments. They just have to make the most persuasive case for their ideas in a two-minute video. (YouTube popularity will count for one-quarter of an entry's final score, with judging by a panel of experts that includes cosmologist Stephen Hawking.)
The two winning entries will be built and flown to the International Space Station, where astronauts will carry out the experiments, with the demonstration broadcast to classrooms via YouTube.
"The headline idea was, 'let's create the world's largest, coolest classroom in space,' "  Zahaan Bharmal, director of European marketing for Google, YouTube's parent company, told the New York Times.
These will not be the first student experiments conducted in space. Earlier this year, 27 student experiments (out of more than 1,000 submitted) flew on the last two Space Shuttle flights. One, from seventh graders in Portland, Ore., tested the growth of protein crystals in microgravity.  Students in 12 school districts around the country are writing proposals for experiments to fly to the space shuttle next spring in a program run by the National Center for Earth and Space Science Education in Maryland.
For the YouTube contest, NASA has signed up Space Adventures, a Vienna, Va., company best known for arranging trips to the International Space Station for space tourists, to prepare the winning experiments for flight.
See the YouTube teaser:
[youtube]http://www.youtube.com/watch?v=T41vZCadbAk&feature=player_embedded[/youtube]
The contest deadline is December 7. Entries will be whittled to 60 finalists in three geographical regions, with Google flying the regional winners to a ceremony in Washington, D.C. next March. The two grand prize winners can choose either a trip to Japan to see the launching of their experiments or, for those over 18, a trip to Russia for a week of cosmonaut training.
Filed under: K-12 Education News
Tags: Aerospace, Competitions for Students, International Space Station, Lenovo, NASA, space experiments, SpaceLab Challenge, YouTube, zero gravity