Posted on
April 20th, 2018
by Mary Lord
World Oceans Day, an annual celebration of marine life and the seas that nurture it, falls on June 8 this year. And in keeping with Earth Day's 2018 theme of ocean plastic, the coalition has developed a number of plastic pollution resources, including an integrated arts marine debris curriculum from WashedAshore.org – an arts and environmental group whose projects include turning trash collected from seashores into sculptures like this sea turtle (video, above) that was on display at the Smithsonian Institution.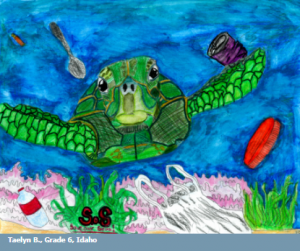 Teachers also could show "Trash Talk," the National Oceans and Atmospheric Administration's Emmy-winning collection of videos on plastic marine debris, its impact, and what we can do about it.  The series is part of the agency's Marine Debris Program
NOAA's annual "Keep the Sea Free of Debris" Marine Debris Program Art Contest is another way to involve students in grades K through 8. Winners like this snazzy sea turtle, have their artwork printed on a free, downloadable calendar. The contest opens October 16 and closes November 30. Click HERE for rules and entry form.
Beyond taking part in an annual coastal cleanup day, families and students can help NOAA keep tabs on plastic pollution. The Marine Debris Monitoring and Assessment Project is one of the world's largest "citizen scientist" efforts. The University of Georgia's College of Engineering, the project's co-sponsor, has even developed a marine debris tracker app that makes it easy for anyone, anywhere to report plastic and other trash. Thousands of volunteers already have logged and removes over 1 million pieces of litter and debris all over the world.
Filed under: For Teachers, Lesson Plans, Special Features, Web Resources
Tags: Citizen Science, Competitions for Students, Environmental Engineering, Internet Resources, marine debris, marine debris monitoring and assessment project, Marine Debris Program art contest, NOAA, ocean plastic, Teacher Resources, University of Georgia college of engineering, washedaway.org, Web Resources, world oceans day