Posted on
December 10th, 2012
by Mary Lord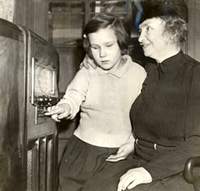 Seeing is believing, but what about hearing? The Women in Science, Technology, Engineering, and Mathematics hopes its online radio series featuring stories of fascinating women scientists, engineers, and educators will inspire girls–including those with disabilities–to pursue STEM careers.
On The Air broadcasts include profiles of such historic figures as Theano, the wife of Pythagoras who is thought to have come up algebra's Golden Mean, as well as interviews with working scientists. A new series, Access to Advancement, highlights opportunities for, and the achievement of, women in STEM with disabilities.
The series, hosted by Northeast Public Radio WAMC and funded by the National Science Foundation, can be used to augment classroom lessons or serve as a resource for students, teachers, parents, guidance counselors, and Girl Scouts troop leaders or other informal educators.
Filed under: Web Resources
Tags: access, Internet Resources, On the Air, radio, STEM education, students with disabilities, Web Resources, webcast, Website, Women in Engineering, women in STEM