Posted on
February 10th, 2011
by als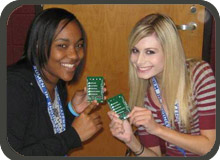 When: July 10-15, 2011. Cost: $600. Level: Girls, grades 10-12.  Application Deadline: June 1, 2011
Women in Engineering Summer Camp 2011
This  six-day residential program at University of Dayton introduces high school women to career opportunities in engineering. Participants experience a total immersion into the world of engineering through classroom activities and participatory experiments. The young women enjoy an evening of Dinner with an Engineer and hear from professional women engineers ready to share and willing to encourage. One day of camp is spent at a sponsoring industry observing engineers. Rising sophomores through seniors. Applications due by June 1, 2010. Fee $475.
Description:
Guided by UD professors, you'll conduct experiments, innovate, make cool stuff, take things apart—then put them back together again—in engineering classrooms and laboratories on campus. You'll visit a job site. Meet women engineers. And spend time checking out new innovations and more.
Have questions about engineering? College in general? You'll have time to chat one-on-one with female engineering students at UD who serve as camp counselors. There's plenty of fun stuff, too—team challenges in the RecPlex, and bowling, billiards, foosball and video games in The Hangar!
For more information, and the online application, visit the Web site.
Filed under: Grades 9-12, K-12 Outreach Programs
Tags: After School, Grades 10-12, Programs for Girls, Summer Camps & Programs (Students), Summer Programs (Students), Women in Engineering