Posted on
March 17th, 2010
by Jaimie Schock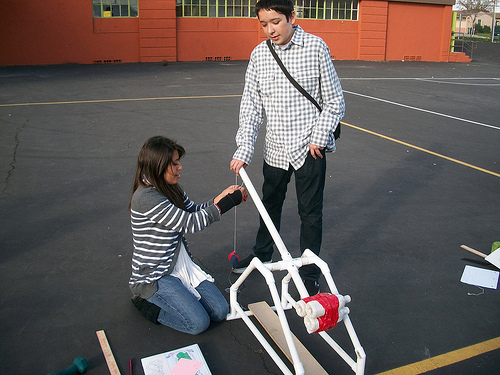 Many schools include project-based learning in their classes, but few have embraced the concept quite as completely as the Da Vinci Science and Design schools in Hawthorne, Calif.
At these public charter high schools outside Los Angeles, project-based learning forms the basis of the entire program. "Actually, PBL is not worked into the curriculum, it is our curriculum," says Nicole Tempel, Da Vinci Principal, with nearly every aspect of learning tied to a project.
The teaching philosophy is simple: When students "learn by doing," and when they can see that education makes sense, they welcome it.
In a PBL environment, students are involved in developing a learning strategy, setting their own goals. They are encouraged to explore different topics that interest them; work in teams to learn how to cooperate and communicate effectively; and engage in post-project evaluation, gaining a sense of achievement and measuring their growth.
Engineering fits well with hands-on learning and is incorporated in all the core classes at Da Vinci Science. One project, in which students make tall paper rollercoasters and test them with marbles, uses engineering to teach basic physics concepts. These include potential, or stored, energy when the marble is stationary at the top; kinetic energy, or the energy of motion, when the marble starts to roll; velocity, as it picks up speed; and conservation of energy as the marble ascends a hill.
"You can't learn to drive a car by reading the manual; you need to feel the road under you," says Dennis Curtis, board president for the Wiseburn school district, of which Da Vinci is part. "I have seen how excited these young engineers become when they feel the principles in effect. The light goes on in their heads." Curtis, who spent 30 years working in aerospace engineering, running an integrated satellite factory, says there is nothing about PBL that he doesn't like. "I wish they would have had it when I was in school. I envy these kids."
Evidence is accumulating to show that this approach works. A 1999 University of Memphis study found that Tennessee schools that used PBL outperformed schools using traditional teaching methods by 26 percent. A similar study showed New Jersey PBL students scoring 27 percentage points higher on statewide tests than their traditional counterparts.
Da Vinci Science and its sister charter school, the Da Vinci Design high school, both named for the iconic Renaissance artist, scientist and engineer, began operating last August. Currently serving only ninth and 10th graders, they are slated to become four-year high schools in 2012.
Their development dates from 2001, when the Wiseburn district, then made up just of elementary and middle schools, sought to stop sending its students to an under-performing high school in a neighboring district. After its attempts to create a public high school were thwarted, the district took advantage of a state law allowing creation of charter schools.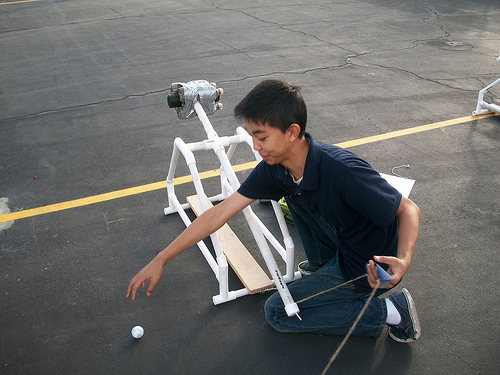 Da Vinci has succeeded in attracting students from a wide area and won significant support from corporations, including Northrop Grumman, Boeing, and Adobe. The firms have donated employee time, equipment, and money. Northrop Grumman alone contributed $135,000 for the schools' Innovation Lab, which features new computers, filming equipment, and more. The companies hope to prepare the students for aerospace and engineering jobs and encourage them to apply for internships.
The Da Vinci schools offer a fast-track to college, with students able to take college credit courses on campus while they complete high school.
If these schools are unusual, so is the Wiseburn district – and successfully so. It has, for instance, practically eliminated the achievement gap between black students and their white and Asian peers.
http://www.davincischools.org/
Filed under: Special Features
Tags: Da Vinci, Education Policy, PBL, Project Based Learning