Posted on
March 15th, 2010
by ASEE
NASA's EarthKAM (Earth Knowledge Acquired by Middle school students) is an educational outreach program that helps students learn about the Earth from the unique perspective of space. Through this interactive program, middle school students take part in photographing the Earth from a digital camera on board the International Space Station.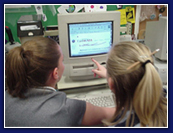 When the EarthKAM camera is operational, students around the world request photos of specific locations on Earth. The collection of EarthKAM images — available in a searchable image archive — as well as accompanying learning guides and activities, form a valuable resource for engaging students in Earth and space science, geography, social studies, mathematics, communications, and art.
Educators must register in order to participate in EarthKAM missions and request photos of Earth, and are encouraged to register now for the upcoming April EarthKAM Mission. Schools will be able to participate April 27 to April 30, depending upon the NASA schedule.

This project, first called KidSat, was initiated in 1995 by Dr. Sally Ride — America's first woman in space. The KidSat camera flew on three space shuttle flights (STS 76, 81 and 86) to test its feasibility. When in 1998, the program was deemed successful, it was renamed EarthKAM. The EarthKAM camera flew on two additional space shuttle flights (STS 89 and 99) before moving over to the International Space Station (ISS) in 2001 on Expedition 1. The EarthKAM camera has since been a permanent payload on board the ISS and supports approximately four missions annually.
Please see the Website for more information and resources
Filed under: Grades 6-8, K-12 Outreach Programs
Tags: Aerospace, Grades 6-8, International Space Station, Satellite imagery