Posted on
January 28th, 2010
by ASEE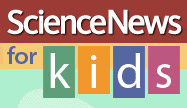 Science News for Kids is a web site devoted to science news for children of ages 9 to 14, offering timely items of interest, accompanied by suggestions for hands-on activities, books, articles, Web resources, and other useful materials.
Updated weekly, this site offers a free sampling of stories from the print edition of Science News. Subscribers to the magazine can access all of the print articles online and view the magazine's digital edition. Science News Online also provides blogs and articles written specifically for the Web, focusing on the areas of food, including nutrition, and mathematics. The TeacherZone materials includes question sheets related to the feature article of the week, so  teachers can bring science news topics to the classroom. The LabZone features a weekly hands-on activity or science project idea.

Founded in 1921, the Society for Science & the Public,  publisher of Science News, is a nonprofit corporation based in Washington, D.C. with the mission of advancing the popular understanding of science through publications and educational programs. The organization administers the Intel Science Talent Search, the Intel International Science and Engineering Fair, the Discovery Channel Young Scientist Challenge, and other programs in science education.
Filed under: Web Resources
Tags: Articles, Grades 6-8, Science Fair Projects, Web Resources