Posted on
October 23rd, 2010
by ASEE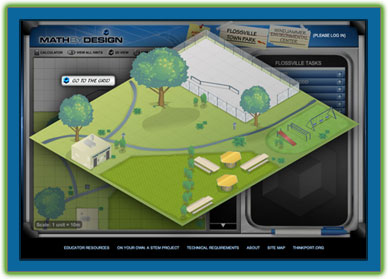 STEM Collaborative.org helps demonstrate the fun and relevance of math. The technology-rich interactives on the Website "offer a fresh, new way to engage students in active learning."  Each learning adventure is aligned to national standards and includes educator support materials, interactive activities and lesson plans.
The site consists of four challenges: Math by Design, Scale City, Proportion Land Park, and Rock 'n' Roll Road Trip.  All put students to work on a number of engaging projects, ranging from building a skateboard ramp to measuring a rollercoaster to making yummy recipes.
STEM Collaborative is a joint project of public television organizations in Maryland,  Alabama, Arkansas,  and Kentucky.
Students become virtual junior architects of two interactive environments, to build a skateboard ramp, cover a picnic area, dig out a pond and more.  As students work their way through mind-boosting challenges, they use critical thinking and problem solving skills to increase their knowledge of geometry and measurement concepts.  (For students taking Algebra I and II)
Alabama Public Television's ProportionLand invites middle school students to "reason" their way through eight brain-boosting interactive attractions at a virtual amusement park. As students hop on and enjoy the rides, they explore and apply proportional reasoning skills to solve a variety of science-based, real world problems.
You and your band are jetting off on a rock-n-roll world tour to five high-spirited cities to solve real-life problems using measurement, ratio, fractions and proportion. Learn the relationship between music and math and how to build a concert stage while traveling through Barcelona, London, Paris, Rio de Janeiro and Tokyo. (Grades 6-8 )
Take a virtual road trip through Kentucky to learn about the mathematics of scale as you explore eight roadside attractions, including the Louisville Slugger Museum, a chicken festival, and a horse park. A short video field trip and an engaging, interactive simulation at each stop along the road help students understand proportional reasoning in real-world applications. (Grades 6-8 )
Filed under: Web Resources
Tags: Mathematics, Web Resources