Posted on
November 25th, 2009
by ASEE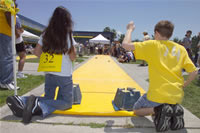 The Florida Solar Energy Center, a research arm of  the University of Central Florida, has developed several downloadable sets of curriculum materials for K-12 teachers and schools on alternative energy sources, including solar, photovoltaics, hydrogen, and fuel cells. The Website lists descriptions of these curriculum materials, links to web sites, and information on each unit. Care has been taken to insure that the proper state standards that apply have been maintained.
Visit the educators' section of the website to learn of tours, events, programs, and the lending library of resources.
Students should also check out the related kids' Website Energy Whiz.
Filed under: Web Resources
Tags: Alternative Energy, Class Activities, Curriculum, Grades 6-8, Grades 9-12, Grades K-5, Lesson Plans, Solar Engineering