Posted on
January 19th, 2010
by ASEE
SAFE-Net, a Cyber Safety Awareness program of the Pittsburgh Superco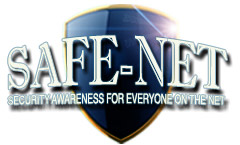 mputing Center at Carnegie Mellon University, focuses on raising the awareness of students, parents, and educators about cyber threats, measures of protection, and cyber ethics. The website provides materials for parents, teachers and students about cyber security issues, with lessons geared to grade levels 1-3, 4-6, and 7-12.
Materials focus on Cyber Ethics: Students learn to make decisions in a way that shows respect for others and others' safety while online; Cyber Safety: Students become aware of online predators, spammers, and cyber bullies; and Cyber Security: Students learn about attacks on their computers that may cause damage or steal information, such as identity or financial data.
Sections of SAFE-Net include: workshop materials for seven different cyber safety and security topics; classroom materials; and parent resources.
Filed under: Web Resources
Tags: Computer Engineering, Cybersecurity, Grades 6-8, Grades 9-12, Grades K-5, Parents, Technology for Learning