Posted on
August 16th, 2010
by ASEE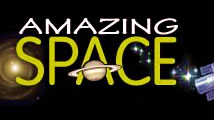 Amazing Space is a Website operated by the Space Telescope Science Institute's Office of Public Outreach, aimed at promoting "the science and majestic beauty of the universe" for use in the classroom by educators and students of all ages.
Check out the site's news stories, online games and activities, "Astronomy Basics," and a comprehensive set of teaching tools for educators offering information and materials.
The site's handsome poster, "Hubble: 20 Years of Discovery," includes six pages of research activities aimed at 6th- through 8th-grade students. Students study the images on the poster and select one of the six suggested Hubble themes to research while working in cooperative groups.
Filed under: Web Resources
Tags: Astronomy, Hubble Space Telescope, Telescope, Website