Posted on
October 30th, 2011
by Jaimie Schock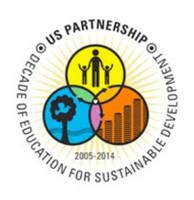 WHEN: November 10, 2011, 5:00 p.m. EST
The U.S. Partnership for Education for Sustainable Development's K-12 and Teacher Education Sector is offering a free webinar about engaging students in relevant learning. The webinar, offered during National Sustainability Education Week in collaboration with National Youth Leadership Council, highlights promising practices in Service-Learning and Education for Sustainability that can be integrated into any classroom's present activities.
Service-learning will be presented as an exciting teaching strategy to meet curricular goals while helping students understand and move towards sustainability; defined as "meeting the needs of the present without compromising the ability of future generations to meet their own needs."
This webinar is designed to help educators apply the lens of sustainability to their service-learning projects and programs and will feature several case studies.
The webinar will be held on November 10, 2011 from 2-3 p.m. Pacific/4-5 p.m. Central/5-6 p.m. Eastern.
Filed under: For Teachers, K-12 Outreach Programs, Web Resources
Tags: Service Projects, Sustainability, Teacher Resources, Web Resources, Webinar