Posted on
March 15th, 2010
by ASEE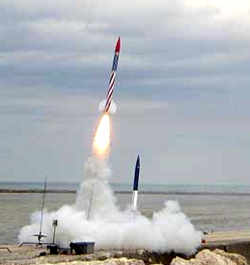 The Great Lakes Spaceport Education Foundation, Inc. was founded in 1992 to promote aerospace awareness through hands-on education with students, teachers and the general public. Their Rockets for Schools program allows students to experience the excitement of building high-power rockets, coordinating a rocket launch and working hands-on with industry professionals. This program is open to students of varied socio-economic backgrounds in grades 6-12 from a five state area in the Midwest.
Rockets for Schools 2010 is scheduled for Friday, May 7th and Saturday, May 8th in Sheboygan, Wisconsin.
The goal of Rockets for Schools is to make science exciting, to stimulate the academic interest in science, math and technology and to aid and encourage students and the public in future aerospace pursuits.
Rockets for Schools provides students in grades 4-12 with a well-rounded experience through developing team-building skills, providing access, knowledge, and participation in a space launch, stimulating the learning process in all areas, particularly math, science and technology, and giving students a chance to meet a U.S. astronaut and other industry professionals.
History of Rockets for Schools
On May 3-4, 1996, 240 students participated in the first state-based Rockets for Schools program. NASA Administrator Dan Goldin addressed the students, along with astronaut Mark Lee. Students were briefed on the different aspects of the launch and were given a tour of the different launch stations. About 12,000 people were in attendance, as Sheboygan, Wisconsin became the first inland sub-orbital launch site. The rocket contained a payload that was constructed by a team of professionals and students from UW-Madison's engineering school.
Since 1996, the launches have involved students from Wisconsin, Michigan, Illinois, and Iowa. In 2001, students from Sheboygan County were involved in the first elementary rocket launch. This event provides an opportunity for students to participate in aerospace technology and rocket launches, learn about rocket construction, and perform as part of a team.
The Rockets for Schools program addresses several national standards through its hands-on approach to science and technology.
Filed under: K-12 Outreach Programs, Web Resources
Tags: Aerodynamics, Aeronautics, Aerospace, Events, Grades 6-8, Grades 9-12, NASA, Programs for Students, Space, Web Resources