Posted on
March 1st, 2010
by ASEE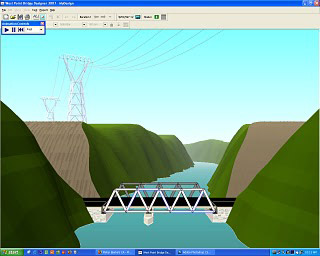 Built for the West Point Bridge Design 2010 Contest, the West Point Bridge Designer 2010 software also can be used and distributed for educational uses. This software provides tools to model, test, and optimize a steel highway bridge, based on realistic specifications, constraints, and performance criteria. It introduces students to engineering through an authentic, hands-on design experience.
The West Point Bridge Designer is provided and intended solely for educational use. By providing this software, neither the U.S. Government, nor the Department of the Army, nor the U. S. Military Academy assumes responsibility for any project or design. Use of the West Point Bridge Designer for commercial or construction purposes is strictly prohibited.
This software is free and is in the public domain. It may be installed on as many computers as you like, and you may distribute it to others without asking permission. Please share it with a friend!
WPBD 2010 requires the following:
A Windows computer with a Pentium processor or better
Windows 98 or better
16 MB of RAM
Please see the website for more information
• Download and install the West Point Bridge Designer 2010 software.
Filed under: Web Resources
Tags: Bridge building, Bridge Design, Civil Engineering, Software, Web Resources