Posted on
January 4th, 2010
by ASEE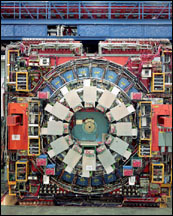 K-12 Students and Educators living near Batavia, Illinois, just outside Chicago, have a rich resource of science education in Fermilab, a U.S. National Accelerator Laboratory, home of the world's second largest energy particle accelerator.
Fermilab  Education Website
The Fermilab  Education Website offers numerous student resources at all levels K-12, including videos,  databases, information, and webquests. Local students can join tours and special programs. Teachers will  find a wealth of information and lesson plans. Local teachers who vist the Teacher Resource Center (TRC) will gain access to curriculum, books, multimedia, periodicals,  newsletters, and reports on science and mathematics education, standards, assessment, and equity. Open Mon. through Fri., 8:30 a.m. – 5:00 p.m, the TRC has staff  ready to assist educators with curriculum and instruction issues.
Lederman Science Center
Specially designed for student field trips, the hands-on exhibits at Fermilab's Lederman Science Center are available to the general public, as well. (a less dynamic virtual tour of Fermilab, with helpful information for older students, can be found here.)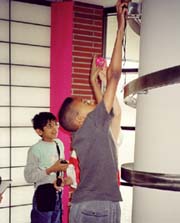 Location: The Lederman Science Center is easily accessible from the Fermilab main entrance at Kirk Road and Pine Street in Batavia, just three miles north of the I-88/Farnsworth Avenue tollway interchange, outside Chicago, IL. See the Map.
Hours: Mon.–Fri. 8:30 AM–4:30 PM, Sat.  9:00 AM–3:00 PM. On holidays, call to check.
Arrangements: The Center can accommodate groups of five or fewer on a walk-in basis. Larger groups must book a visit. Call 630-840-8258 for more information.
Before you come: Watch videos of what you will see when you come to the center,  and read the visitor's handout.
Lederman Science Education Center, Fermilab MS 777, Box 500, Batavia, IL 60510; (630) 840-8258 fax: (630) 840-2500
Filed under: Grades 6-8, Grades 9-12, Grades K-5, K-12 Outreach Programs, Web Resources
Tags: Grades 6-8, Grades 9-12, Lesson Plans, Nuclear Science, Physics, Web Resources