Posted on
June 19th, 2011
by Mary Lord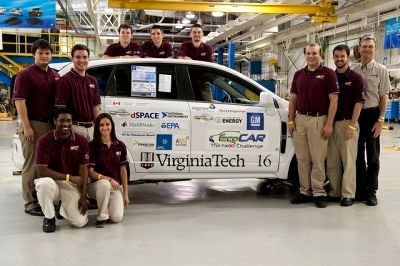 Three years of long nights in the garage came to a happy conclusion for a group of Virginia Tech engineering students June 16, when their team beat out 15 others to win the EcoCAR Challenge sponsored by the U.S. Department of Energy and General Motors. Their ethanol-powered exceptional extended-range electric vehicle (EREV) achieved a fuel efficiency of 81.9 miles per gallon gasoline equivalent, or 70 percent over the stock vehicle. That put Virginia Tech's entry well ahead of the pack in the contest to redesign GM-donated vehicles to be more fuel-efficient and environmentally friendly while maintaining consumer appeal and safety.
Ohio State University came in second place, with a well-balanced vehicle in all aspects of consumer acceptability, fuel economy, and acceleration categories. The third-place team from the University of Waterloo designed a hydrogen fuel cell plug-in hybrid electric vehicle. Working with an extremely complex architecture, the team was the first in the history of advanced-vehicle technology competitions to run a fuel cell vehicle in all the dynamic events during finals.
Throughout the three-year design challenge, the student teams had to meet a series of benchmarks. This month, their entries underwent a series of safety and technical tests at GM's Proving Ground in Milford, Mich. Those tests were similar to those conducted on GM production vehicles.
"Challenging, but clearly worth it in the end," was the verdict of Patrick Walsh, co-team leader for Virginia Tech. "The entire team has put so much time and effort into designing and refining our vehicle, and we've gained valuable knowledge and hands-on experience that will prepare us for our engineering careers."
Energy Secretary Seven Chu praised the Virginia Tech team's "ingenuity and dedication," adding that their work in building this next-generation vehicle "will help them launch careers as leaders in the clean energy field." He said the EcoCAR experience will enable the students to help the nation reduce its reliance on oil imports and keep U.S. industries competitive.
Check out videos from the competition on EcoCAR's Inside the Green Garage blog.
Watch Virginia Tech students explain their design:
[youtube]http://www.youtube.com/watch?v=kePxBWGIgNU[/youtube]
Filed under: K-12 Education News
Tags: Alternative Fuels, car, Competitions for Students, Contest, Energy, Environmental Engineering, General Motors, U.S. Department of Energy, Virginia Tech