Posted on
October 24th, 2014
by Mary Lord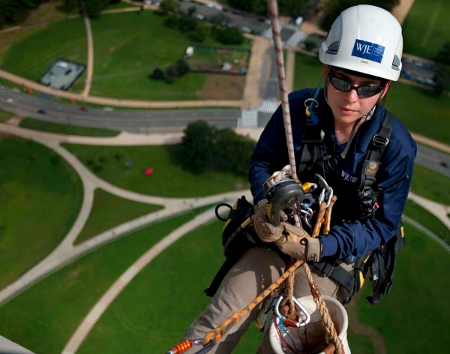 Structural engineer Emma Cardini has inspected some pretty impressive facades, including the Chicago Tribune Tower's ornate spires and the Bridge of the Americas in Panama. Still, nothing compared with the bird's eye view she enjoyed rappelling down the Washington Monument's marble spire to assess the damage from a 5.8-magnitude earthquake that rattled the capital on August 23, 2011.
The view of the city is "awesome," as is working on the monument, she said in a Washington Post profile. "For an engineer, it's Disney World."
Cardini, 32, is part of a specially trained "difficult access team" of engineers and architects sent to examine hard-to-reach structures for Chicago-based Wiss, Janney, Elstner Associates. Along with professional training, team members must qualify for certification by the Society of Professional Rope Access Technicians – including familiarity with general rigging and self-rescue techniques. Rappelling down facades not only allows for close inspection of areas that scaffolding and aerial lifts can't reach, it's faster and more efficient because fewer personnel need to be involved on the site. Previous difficult-access jobs have included dangling from such iconic facades as Central Park West highrises and Alcatraz prison.
Cardini, a licensed professional engineer who holds a bachelor's degree in civil engineering and a master's in structural engineering science from Tufts University, has the first of three levels of rope-access certification. She keeps a hard hat in her car and has "zero fear of heights," her husband, also an engineer, told the Associated Press.
Cardini and her fellow Difficult Access teammates – there are five from WJE – plus Brandon Latham, a National Park Service mountaineering and rope-rigging ranger NPS brought in from Alaska's Denali National Park, captured imaginations throughout the nation's capital. Tourists squinted up at the "vertical engineers" as if watching high-wire daredevils. (The monument and the observation deck, which was closed to visitors following the 2011 temblor, reopened in May 2014 after $15 million in repairs – half of the cost borne by billionaire David Rubenstein.) The Washington Post ran front page features with vertigo-inducing photos. The National Park Service posted photos and "helmet-cam" videos.
Ironically, at least one member of the team, architect Daniel Gach, had tackled a similar difficult access job in Washington, D.C., before – ensuring the soundness of the ornate Eisenhower Office Building next to the White House.
At just under 555.5 feet, the obelisk is the world's tallest free-standing stone structure and the highest point in the nation's capital. To access the facade, the engineering team had to open a long-shuttered hatch and observation windows at the top of the monument, install the lines, strap on safety harnesses, and slowly begin lowering themselves down from the pyramid-shaped cap. That's where a large, inch-wide crack was discovered and where the team expected to find the most damage.
[youtube]http://www.youtube.com/watch?v=GB-FCyCBhiI[/youtube]
The work was fairly straightforward. Team members had masonry tools to remove loose mortar or stone, and a soft mallet whose tap can audibly reveal weaknesses. Each also carried a two-way radio and an iPad loaded with information from the 1999 restoration of the monument, allowing visual confirmation of damage. Washington's mercurial October weather – including thunderstorms and a wind gust that blew engineer Erik Sohn 30 feet off the west wall as he was working 50 feet off the ground one Friday evening – forced the National Park Service to suspend operations that weekend. (Sohn's hours of training and field experience allowed him to react calmly and safely continue his descent.)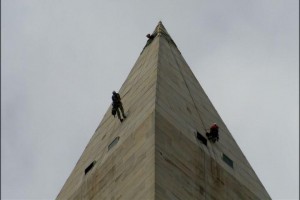 The once-in-a-lifetime assignment came at a tricky time for Cardini and her husband. The Melrose, Mass., couple had just moved into a new home and were trying to sell their condo. Cardini received a text message from the real estate agent while on top of the monument that read: "hi! You have an offer. Can u talk?" She replied, "not really," explaining her location and noting that the cellphone service up there was "not great." The view, however, was top-rung.
Watch a time-lapse video of the 32-month repairs:
[youtube]http://www.youtube.com/watch?v=rgomsxUVa2U[/youtube]
Filed under: Special Features
Tags: Architecture, Civil Engineering, difficult access team, earthquake, National Park Service, rappelling, rope, Structural Engineering, vertical engineers, Washington Monument, WJE