Posted on
April 2nd, 2012
by Mary Lord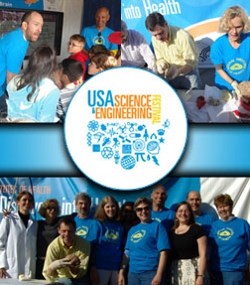 The nation's capital will sparkle this month when the stars of science and engineering descend on Walter E. Washington Convention Center for the 2nd annual USA Science & Engineering Festival, April 28-29.
Billed as the country's largest celebration of science, this year's festival features more than 3,000 hands-on activities along with TV celebrities and best-selling authors. Catch PBS's Bill Nye the Science Guy or watch Mythbusters Adam Savage and Jamie Hyneman puncture common misconceptions. New this year: a science and engineering book fair, and a career pavilion for high school students that includes a college center and networking opportunities with professional scientists and engineers.
Can't make it to Washington, D.C.? Many communities around the country are hosting satellite events and affiliate festivals in such cities as San Diego and Boston. Click HERE for teacher resources.
Filed under: Special Features, Web Resources
Tags: Bill Nye, book fair, D.C., engineering education, engineering festival, hands-on activities, Mythbusters, science festival, USA Science and Engineering Festival 2012, Washington