Posted on
December 13th, 2017
by Mary Lord
Who says you can't un-ring a bell?
As acoustical engineers show in this video, aligning sound waves can silence even a large Burmese temple bell – at least in the space surrounding a sleeping infant.
The demonstration was mounted with the assistance of University of Wisconsin, Madison, biomedical engineering Chris Nguyen, who won the GE Unimpossible Innovation Challenge by using "destructive interference" to cancel out a ringing bell. The technique involves blasting one sound wave with its exact opposite, canceling out both, and it's what lets noise-cancelling headphones muffle surrounding sounds.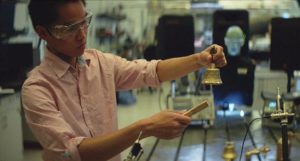 As Business Insider reported. "Nguyen placed the bell one one side of an anechoic chamber — essentially a foam-padded room that traps any sound — and placed a microphone at the other end. In between them was a speaker, which Ngyuyen pointed at the bell. Whatever sound the bell produces, the speaker is programmed to emit the acoustic opposite."
When the system works properly, the microphone picks up nothing. The bell gets unrung.
Nguyen, who had been researching what noise-cancelling headphones to buy, had prepared a list of 10 idioms before hitting on "Unring a Bell." One of 575 contest entries, he and the debunkers o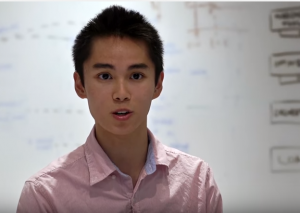 f both runner-up idioms – "rain falls upward" and "hanging by a thread" – received a 10-week paid internship at GE's Global Research Center in Niskayuna, N.Y. Nguyen also received up to $100,000 toward his education.
Destructive interference has broader uses beyond unringing a bell. As Nguyen explains, the technology can "reduce the noise coming from MRI machines or jet engines."
Filed under: Special Features
Tags: acoustic engineering, bell, Contest, fun with technology, sound, sound wave, STEM education, unring a bell