Posted on
February 1st, 2010
by Jaimie Schock
You've heard of the lab-on-a-chip concept? St. Cloud State University has developed a lab on wheels, better known as the Science Express, that visits K-12 schools in central Minnesota, according to the school's news service.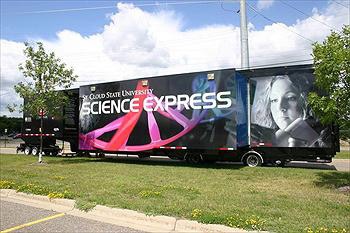 Image from St. Cloud State University
Inside the 53-foot-long semi-trailer, there's a highly sophisticated science lab containing equipment that no K-12 school could afford to have. It also features an audio/visual system, a wireless network and satellite Internet access. The mobile lab can accommodate 35 students at a time. The students perform experiments like purifying the DNA of a kiwi or cleaning up an oil spill using bacteria.
It's part of St. Cloud State's outreach initiative to bring bioscience concepts to K-12 students. As David DeGroote, dean of the College of Science and Engineering says, students as early as 4th grade start deciding career paths, so getting them interested in science early on is essential. By the end of this academic year, the Science Express—which stays a week at each school—will have visited 25 schools and fascinated 7,500 students. The trailer is an in-kind donation from medical device maker Medtronic, which had used it to train physicians.
Filed under: K-12 Education News
Tags: Laboratory Experience, Programs for Students, Resources for Teachers, Teacher Resources, Technology for Learning