Posted on
October 29th, 2015
by Mary Lord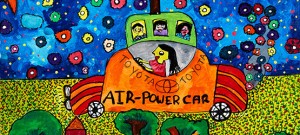 The Toyota Dream Car Art Contest invites children 15 and under from around the world to share ideas about the future of mobility by drawing their dream cars.
Participants can win great prizes and have the opportunity to visit Japan for an award ceremony. In addition, young designers are given tours at a Toyota factory and can experience various aspects of Japanese culture.
The entry period runs from October 2015 until the end of March 2016. Click HERE for entry information. Watch a video about the contest.
How will your dream car make the world a better place?
Filed under: Competitions and Contests, Special Features, Web Resources
Tags: art contest, Automotive engineering, car design, Competitions for Students, Contest, Design, STEAM, Toyota