Posted on
November 29th, 2016
by Mary Lord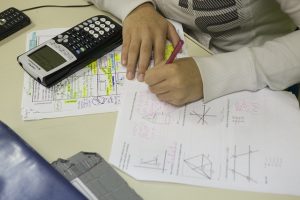 Despite years of White House science fairs, a national emphasis on STEM education, and new science standards that include engineering design, U.S. students still fall short of their peers around the world in math and science, a major international exam reveals.
The 2015 Trends in International Mathematics and Science Study, or TIMSS, found that American eighth graders performed slightly better than four years ago, but fourth graders saw scores dip slightly. While both groups have seen science and math scores rise since the test first was administered in 1995, U.S. still lag their Asian counterparts.
Nearly 600,000 students in dozens of school system worldwide took the 2015 TIMSS. The average math score for American fourth graders trailed that of students in 10 other countries: Singapore, Hong Kong, South Korea, Taiwan, Japan, Russia, Northern Ireland and Ireland, Norway, and the Flemish portion of Belgium. In Singapore, half the students scored at the advanced level, compared with just 14 percent of U.S. students.
Eight systems, including those in Great Britain, Kazakhstan, Portugal, Denmark, Quebec, Lithuania, Finland, and Poland had average math scores that were not measurably different from the U.S. average.
"Certainly we have much more work to do and achievement is not as high as we would like to have it," Matt Larson, president of the National Council of Teachers of Mathematics, was quoted in the Washington Post. "But the trajectory is positive, and it may indicate that some of the efforts we've made over the past two and a half decades are making a difference."
David Evans, executive director of the National Science Teachers Association, noted that the amount of time devoted to science has decreased as schools focused on raising standardized test scores in reading and math. He's hopeful that the Next Generation Science Standards, which require students to learn science by doing it and  have been adopted by 18 states — including California and Illinois — will propel bigger gains in the coming years.
"I think we're right now at the very beginning of what could be a very significant change in the way we teach science," Evans said.
Results in the TIMSS Advanced, which measures the performance of high school seniors who take advanced courses in physics and math, held steady from 1995, but revealed a yawning gender gap. Males scored 46 points higher than females in physics, and 30 points higher in math.
Filed under: K-12 Education News
Tags: Education Policy, International Test of Math and Science Skills, National Center for Education Statistics, NCTM, NGSS, Research on Learning, STEM education, TIMSS