Posted on
May 27th, 2011
by Jaimie Schock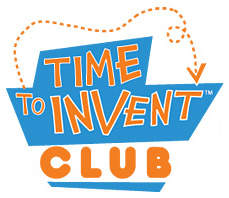 Level: Grade 5 and Up (Adjustable for Grades 3-4)
Cost: Free Guide, Materials can cost up to $400
Time: One Hour for Each Activity, 16 Activities
The Time to Invent Club, an invention-based mentoring program from the Educational Outreach Department at WGBH (Boston's PBS station), is now available nationwide. In Time to Invent, fifth graders participate in fun, hands-on invention activities that spark their interest in STEM. They tackle challenges, gain confidence through inventing and creative problem-solving, meet STEM professions, and realize the impact invention has on daily life.
The program was successfully piloted for two years in Massachusetts and Indiana and is funded by the Lemelson Foundation. The FREE activity guide can be downloaded on the Time to Invent website, and educators or volunteer STEM professionals and college students can lead the program. Activities can be implemented in a variety of educational settings such as afterschool programs, camps, or classrooms.
There are 16 fun, hands-on invention activities that use simple, inexpensive materials and have leader notes and kids' handouts (in English and Spanish). Each are one hour long. For maximum impact, a club should meet 16 times. At a minimum, it should meet eight times. The Time to Invent guide is FREE. Activity materials can cost up to $400. Cost varies depending on what materials are already available and which activities are chosen.
Designed as an afterschool club, the Time to Invent activities can work in any educational setting. A Time to Invent club is a collaborative effort. To start a club, form a team of afterschool staff and mentors (professionals and college students with backgrounds in science and engineering). The afterschool staff provide a connection to the kids, families, and afterschool. Mentors lead activities and introduce kids to invention and technical careers.
Recommended club size is 12 kids. The interaction among 12 kids is manageable and gives the club a nice energy. With bigger or smaller groups, adjust the material quantities (they're based on a group size of 12), and make sure adequate staffing is on hand to manage the group. Recommended age group is 5th grade and up. These activities can work with 3rd and 4th graders with slight modifications and some extra assistance and supervision.
To learn more about starting a club and the activities available, click here.
Filed under: Grades 6-8, Grades K-5, K-12 Outreach Programs, Web Resources
Tags: After School, Class Activities, Elementary Education, Mentoring, Resources for Teachers, STEM Clubs, STEM education, Teacher Resources, Teaching Aids