Posted on
May 31st, 2014
by Mary Lord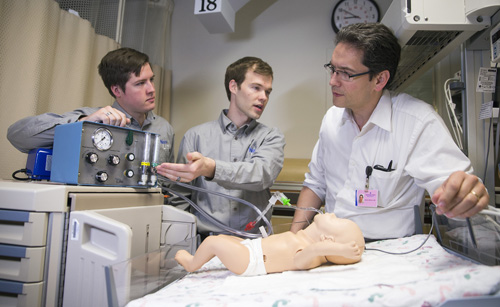 Engineering undergraduates and graduate students do some pretty amazing things, from developing an inexpensive neonatal ventilator for newborns in developing countries like the Brigham Young University engineering seniors  in the photo (above), to racing solar-powered cars and designing better football helmets that protect players from concussions.
They also need to hunt for scholarships and internships.
That's why the American Society for Engineering Education launched The Accelerator, a monthly e-newsletter that keeps engineering students informed and helps them connect and succeed.
Find the latest news affecting student life, engineering, and higher education. Get information on contests, scholarships, and internships as well as tips on career planning. And learn more about interesting students and their research projects.
Subscribe now and begin enjoying this free resource for current and prospective engineering students!
Filed under: K-12 Outreach Programs, Special Features, Web Resources
Tags: Accelerator, ASEE, campus, engineering students, Internet Resources, Internships, scholarships, STEM education