Posted on
August 30th, 2010
by Jaimie Schock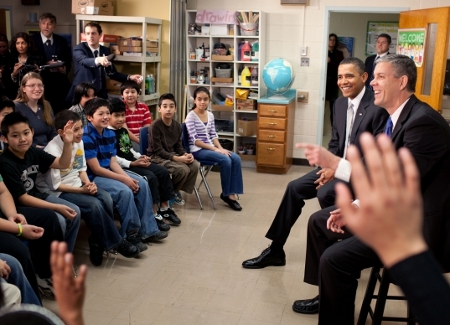 Nine states and the District of Columbia emerged as winners of the U.S. Department of Education's $4.35 billion Race to the Top grant competition. D.C., Florida, Georgia, Hawaii, Massachusetts, Maryland, New York, North Carolina, Ohio, and Rhode Island will divvy up $3.4 billion in education grants, the Associated Press (AP) reports. A first round in March saw Tennessee and Delaware win — they split $600 million. Another $350 million in grants will be doled out in a third competition based on states creating new academic assessments.
The grant competition is the signature White House education program, and it was designed to motivate states to make needed reforms to help struggling schools, boost graduation rates, and close the achievement gap, the AP says, and proponents say it did just that. Initially, 46 states and D.C. applied for the grants, and 19 finalists were in the running for the second round.
Not surprisingly, the results were met with a wave of criticisms and finger-pointing, according to Education Week's Politics K-12 blog. Many questioned why Hawaii won while top contenders Louisiana and Colorado failed. New Jersey lost out on a $400 million grant because it botched the answer to one question, the blog notes. Republican Gov. Chris Christie blamed the administration, saying N.J. should have been asked to fix its proposal. But, the state's top lawmaker, a Democrat, says the mistake was Christie's fault, and hearings on the matter have been scheduled. Meanwhile, the blog quotes Hechinger Reports as saying the "top buzzwords" in winning proposals were, among others: rigor, assessment, accountability, and e-learning.
Filed under: K-12 Education News
Tags: Education Policy, Grant Opportunities, Public Policy, U. S. Department of Education