Posted on
September 13th, 2010
by Jaimie Schock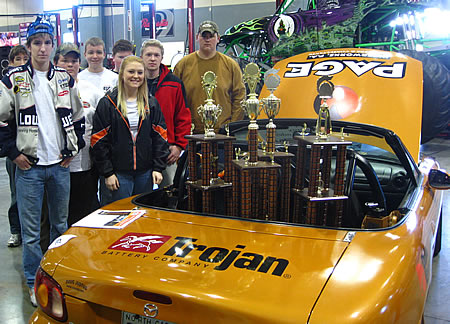 Chris Tolbert's students and their award-winning electric car
When a North Carolina telecom manufacturer laid off hundreds of workers over a two-month period, mechanical engineer Christopher Tolbert found himself out of a job. After a short stint teaching at a community college, he was hired in 2003 to teach drafting, technology, and mechanical engineering at West Wilkes High School in Millers Creek, N.C.
Many of Tolbert's students had little interest in school, and he began to worry that their futures were slipping away. He wanted to reach students at risk of dropping out while also giving advanced pupils an opportunity to improve their talents and abilities.
Marie Hoepfl, a professor at Appalachian State University, persuaded Tolbert to find a project that could engage both levels of students. Tolbert chose the Students Making Advancements in Renewable Transportation Technology (SMARTT) Challenge, a 15-year-old, 11-state program run by the Carolina Electric Vehicle Coalition, Inc. His students now convert street-legal, gas-powered vehicles to electric ones. They also compete with website designs, professional presentations, electric vehicle troubleshooting, vehicle designs, school initiative, and a vehicle autocross and range event as part of the Challenge. So far, they've converted a 1983 Ford Ranger and a 2000 Mazda Miata, and they're currently finishing a 2002 Chevrolet S-10.
Students on the SMARTT team are responsible for every aspect of their program, from marketing products to sweeping floors. They prepare a timeline of competitions and make many key decisions on the conversion, with Tolbert holding veto power over anything concerning safety or quality.
"Every student is held accountable," Tolbert says. They must create the marketing presentation, a Website, a wiki, a newsletter, the electrical design, and the driving groups; and they have do all the technical work,  computer programming, and mechanical engineering — apart for a small amount of dangerous high-voltage electrical work.
Skills learned are tied to the curriculum. Through creating performance spreadsheets on the vehicles, students understand the real-world importance of studying math — a value that can then be taken into other classes. The students also spend time working after school and on weekends. A student who does not maintain his or her goals and meet deadlines can't attend the competition. If tutoring is needed, then Tolbert or a mentor student assists so that no student is left in the dust.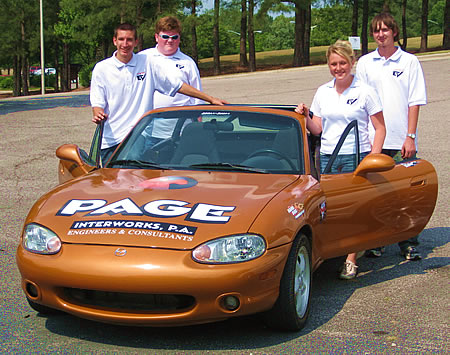 Chris Tolbert's students pose with their electric car
"The success I measure is hard to put in a report card," says Tolbert. "I have had many students come into the program with no intentions of finishing high school. Watching these students change their ambitions and goals, however small the step, is how I measure success. I couldn't be more thrilled to witness one of these students make the decision to set future goals to advanced technical careers."
"This program simply gives them something to work toward," Tolbert says. "It is what gets them in bed on time, out of bed in the morning, and the proper attitude in all their classes." His students went from failing courses to superior performance in math, science, and standardized tests. They've even gone on to achieve high military and collegiate honors.
West Wilkes Principal J. Wayne Shepard says Tolbert "truly does have a heart for his students, and understands that success does not look the same for everyone." Shepard and Tolbert are currently implementing a pilot program that targets students at risk of dropping out. The program uses online class credit recovery options with hands-on instruction focused on engineering technology learning.
Tobert's own success has been recognized with Teacher of the Year and Gold Apple awards. In 2009, he won a National Science Foundation Einstein fellowship, which brings STEM teachers with a record of excellence to work temporarily alongside professionals in federal government agencies and on Capitol Hill.
Outside the SMARTT program, Tolbert's students construct electric motors, build wind turbines from salvaged and recycled parts they find at home, make a small-scale monster truck that runs on an obstacle course, and create and fly a small tethered plane. These projects don't come from a box or a "canned" kit. They're student-designed and built, and the students acquire most of the materials.
If the first prototype fails, and it often does, students evaluate the problems and start over or modify their existing design, an approach that mimics real world engineering challenges. They are pressed further to use all recycled material and must address the lifespan and environmental impact of their designs.
For Tolbert, teaching has turned out to be more than a detour in an engineering career. "For me, I really can't think of a more rewarding job."
Filed under: Special Features
Tags: Cars, Electrical Engineering, Environmental Engineering, Green Technology, Mechanical engineering