Posted on
February 10th, 2011
by ASEE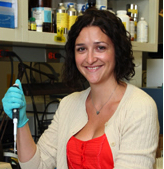 Deadline: Jan. 31, 2011. Eligibility: Science teachers from public, private, and parochial K‐12 schools, New York metropolitan area. Stipend: $5,000 per summer plus $1,000 in classroom/laboratory supply funds
Science teachers from public, private, and parochial K‐12 schools in the New York metropolitan area are invited to apply for Summer Research Fellowships at Columbia University's Summer Research Program for Science Teachers, with awards for to 10 K-12 science teachers.
Program participants conduct laboratory research for eight weeks in each of two consecutive summers under the supervision of university faculty mentors. The successful applicant will receive a stipend of $5,000 each summer, $1,000 in classroom/laboratory supply funds over the course of two school years and opportunities to attend professional conferences.
Application
Applications are available by visiting the program's Website.
See the poster pdf
DEADLINE: Jan. 31, 2011
CONTACT: www.ScienceTeacherProgram.org; for more information, contact Jay Dubner, program coordinator, at 1-212-305-6899; e-mail: jd109@columbia.edu.
Filed under: For Teachers, K-12 Outreach Programs
Tags: Programs for Teachers, Science Research, Summer Programs (Teachers)