Posted on
July 5th, 2010
by ASEE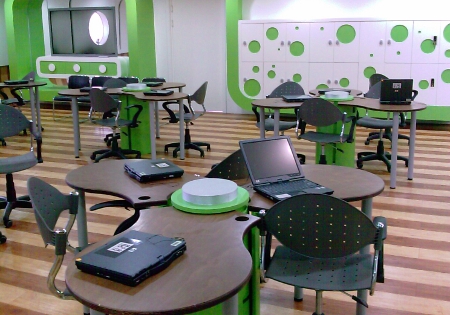 The jury is still out on how well classroom technology works and just how necessary it is, say education experts. But don't try telling that to the 18,000 or so educators who jammed into a Denver convention center late last month for the annual meeting of the International Society for Technology in Education (ISTE). It's also billed as the "world's largest ed-tech exhibit," and around 400 vendors were on hand, according to the Denver Post.
Attendees were told that in classrooms of the not-too-distant future, each student will be armed with a hand-held digital education device, teachers will encourage tweeting and texting, and more lessons will be taught using computer games. Teachers were also able to attend sessions on a variety of topics, including how to use an iPad as a teaching tool, and how to help students create podcasts. ISTE officials told the Post that they expect prohibitions against students bringing their own electronic gadgets to school will soon fade away because schools will find it harder to afford their own gear.
Kris Worden, principal of Chappell Elementary School in Green Bay, Wisc., told the paper: "I want my teachers to be on the cutting edge" when it comes to using ed-tech. She has  good cause for her enthusiasm for all things digital: Thanks to grants, each of her students has a laptop, even though they all come from disadvantaged families. Since the technology was introduced at the school, she says, student scores on standardized tests have jumped 15 to 20 percent. Moreover, Worden says, behavioral problems are a thing of the past. Just like chalkboards.
Filed under: K-12 Education News
Tags: Classroom Technology, Education Policy, Teaching Aids, Technology for Learning