Posted on
November 13th, 2017
by Mary Lord
Social and emotional learning is a hot topic these days. That's because research suggests that students can suffer academically when they're having a hard time outside the classroom, whether at home, on the school bus, or in the playground. When kids feel happy, safe, and included, they learn better.
Many schools, districts, and even states are searching for ways to gauge student well-being. California, for example, recently joined a new multi-state initiative launched by the Collaborative for Academic, Social and Emotional Learning, a Chicago-based nonprofit. And many states are debating whether – and how – to include student well-being on state accountability measures.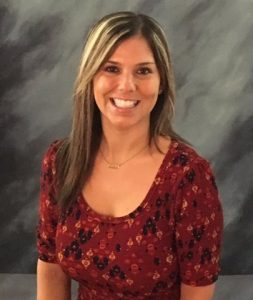 They might want to check with Gina Greco. For more than 15 years, the Auburn, Wash., fourth grade teacher used simple pencil-and-paper surveys to track how her students were doing.  "I understand and appreciate data," she tells eGFI, noting how she and her colleagues look at math and reading data every week. Yet she wished there was a simple assessment to reveal how kids were feeling. "We're not going to move them academically unless we address whether they are happy in life," says Greco. An online screener "seemed like a natural," but she lacked the expertise to develop one.
Serendipity struck while chatting with a friend, Andy Orr, who happened to be the Software Development Program manager at nearby Green River College. She made a pitch to his undergraduates in the spring of 2016. Four  – Satinder Kaur, Jami Schwarzwalder, Benjamin Arnold, and Joshua Hawks –  dove in. Eight weeks later, they debuted  a web-based app called Emotions Count that gives kids a safe and confidential way to report how they're feeling with the click of an emoticon. There's also an open form for students to write about what's going on in their lives. Behind the scenes, the information is instantly collected and presented on a secure teacher dashboard, color-coded to flag those students who, based on their responses, may need intervention. [Read the college's news story.]
After first checking with her district's superintendent about tech bandwidth and seeking parents' permission, Greco began field testing the app in her classroom. It proved a hit with students. "They just loved it!" she reports. The reaction was similar in another district also beta-testing the app and providing feedback.
Greco particularly appreciates being able to receive instantaneous information on her students' emotional health. rather than have students wonder if anybody is "listening to my worries and frustrations?'" While she might survey the class every two weeks, students can grab a ChromeBook and report an incident at recess or other problem. This quick alert lets Greco address problems "before they fester" by chatting one-on-one with the student or raising the issue of bullying, say, with the whole class. "Instead of a problem simmering and escalating, we could meet it head on," says Greco.
Greco, who continues to work with recent Green River software development graduates Jami Schwarzwalder and Kimberly Praxel to refine Emotions Count based on teacher feedback, would like to see her app "touch as many students as possible." She'd also like to make the tool a bit more "teacher-friendly" by allowing instructors to ask different questions based on their students' needs. Her goal is not to make money but to find a partner or investor who can deliver an affordable, accessible tool that teachers can use to boost engagement and learning.
"My dream," says Greco, "is to find a partner with a vision similar to mine to ensure that the needs and hearts of all our students are our number one priority." But, she adds, "it's kind of a struggle to find a fit" or right people to lead this expensive effort.
Since news of Emotions Count broke on King5 News last fall, Greco says many teachers have approached her expressing interest. She wants to get feedback – particularly from students – before trying to app to the next level. (Teachers input already has led to the substitution of stable emojis for the original animated examples that spun around on the screen.)
In the meantime, Greco is hardly resting on her tech laurels. She remains involved with Green River techies, who have developed a similar well-being screen for middle and high school students. The team now is looking for a classroom to field test the app.
The Emotions Count team. From left: Jami Schwarzwalder, Satinder Kaur, Benjamin Arnold, Joshua Hawks, Gina Greco (client), Tina Ostrander (instructor), Megan Orr (teacher), and Ron Quartel (agile coach). Photo from Green River College news story.
Nor is Greco the only teacher with a knack for apps. As NEA Today reports, Nick Gattuso, a former Bell Labs engineer turned computer science teacher at Point Pleasant Borough High School in New Jersey, and his students have developed a suite of learning applications to assist students with disabilities. One of the Panther Assisted Learning Services applications teaches them how to go grocery shopping—with a shopping-cart simulator. Another one helps them count money.
PALS emerged from a course Gattuso created called Advanced Software Engineering Topics to accommodate students who wished to go beyond Programming 1 and Advanced Placement Computer Science. The course is project-based, as in college or the workplace, with deadlines rather than tests. Some of his graduates are now making "oddles of money" at Google, Apple, and Yelp, he says, "but they always know that the genesis of their work was building stuff for special needs kids, for doing good for somebody else."
The students, who were honored last year by the New Jersey Board of Education, also developed an emergency-response app that school officials could use to notify students of emergencies when they were taking off-campus lunch breaks. The presented it and other apps at the New Jersey School Boards Association's 2017 STEAM Tank competition in October.
Filed under: K-12 Education News, Special Features
Tags: agile development, app design, coding, Computer Science, Gina Greco, Green River College, social emotional learning, software development, software engineering, STEM education, Technology for Learning, technology teacher, Web Resources