Posted on
January 26th, 2010
by ASEE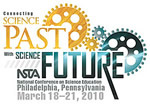 The National Science Teachers Association's  National Conference on Science Education, "Connecting Science Past to Science Future," is scheduled for March 18–21 in Philadelphia, PA. The workshops, seminars, and presentations promise to inspire, fine tune your content knowledge, test your strategies and techniques to build student performance, and tackle critical education issues of the day.
Preconference PD Institutes offer in-depth study starting Wed., March 17. Deepening Science Thinking and Reasoning Through Discussion and Writing in K–8 Inquiry-based (ticketed) is one of 10 to consider with follow-on pathway sessions later in the week.
Special programs to review: NSTA's Exemplary Science Program, Teacher Researcher Day, Informal Science Day, and Centers for Ocean Sciences Education Excellence (COSEE) Program.
Sessions number almost 2000, for every grade band, every discipline, and for preservice through veteran educators. Some samples:
♦ Advancing Science as Inquiry: Professional Development Tools You Can Use (Elem–High School)
♦ Going Fishing for Rainbows: Connecting Content for Diverse Learners (Elem)
♦ NASA Astrobiology Institute: Life on Earth … and Elsewhere? (Middle–High)
♦Playing with Ecosystem Science: Informal Modeling Games to Explore the Delicate Balance (Middle/Informal)
♦ Empirical Evidence vs. Intuition and the Let's Make a Deal Game Show (High–College)
♦ Seven Inquiry-based Labs That Integrate the Physical Sciences and Algebra (High School)
♦ Teaching Chemistry with Hydrogen and Fuel Cells (High–College)
♦ The Virtual Genetics Lab: A Free Interactive Computer Simulation of Genetics (High–College)
♦ A Universal Design for Learning Approach to Understanding Cells (Middle–College)
Visit the Philadelphia conference web pages for more information and to register.
Filed under: For Teachers, K-12 Outreach Programs