Posted on
August 10th, 2017
by Mary Lord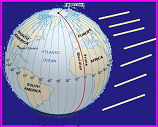 Middle school students learn about the Earth's geometrical relation to the sun by calculating where the sun will be in the sky for any date or time given a particular location on Earth, such as their school. The three-activity module was developed by lighting engineer Tony Esposito, Ph.D., during his graduate studies at Pennsylvania State University and made available to eGFI Teachers.
Filed under: Class Activities, Grades 6-8, Lesson Plans, Special Features | Comment »
Tags: angle, calendar, Class Activities, day, earth sciences, eclipse, Environmental Engineering, Environmental science, Geometry, globe, Grades 6-8, latitude, Lesson Plans, light engineering, longitude, map, Mathematics, NASA, Project CANDLE, season, Solar Geometry, sun, Tony Esposito Jr.