Posted on
February 22nd, 2010
by ASEE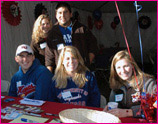 Dates: March 6-7, 2010. Location: University of Kansas, Lawrence, KS. Level: High School Girls. Cost: $95. Application deadline: Feb. 22
SWE Weekend of Engineering is a camp for high-school girls that blends fun educational activities and a glimpse of the KU college experience. Two SWE Weekends take place every year; one each in the fall and spring semester. They are ideal for students at the junior or senior level of high school, but freshman and sophomores are welcome too.  Contact Lindsey McCaig, lmccaig@ku.edu or (785) 864-2989 for more information.
As a Weekend of Engineering camper, you will:
• Attend demonstrations and presentations by KU engineering professors
• Visit engineering labs on campus
• Learn about career and study opportunities in engineering
• Interact with KU engineering women who will work with you during the weekend as counselors
• Work in teams on a fun engineering project
Accommodations
All lodging, meals, and activities are included during the camp. Participants stay at a hotel in Lawrence.
The KU Experience
• What will life be like as a student at KU? You'll get an idea during the SWE Weekend of Engineering!
• Attend an athletic event
• Bowl at the Jay Bowl in the student union
• Tour the campus
• Dine at Mrs. E's, the highly acclaimed dining hall that serves many KU residence halls.
Details
• The cost for the camp is $95 and includes all costs – hotel, meals, and activities
• To participate, send in the registration form by February 22
Schedule
• Registration begins at 9:30am on Saturday.
• Attend KU vs. Texas A&M Women's Basketball game on Saturday.
• Pick-up is at 2pm on Sunday.
Please see the Website for more and updated information
Contact Lindsey McCaig lmccaig@ku.edu or (785) 864-2989 with questions. 1520 W. 15th St., 1001 Eaton Hall, Lawrence, KS, 66046
Filed under: Grades 9-12, K-12 Outreach Programs
Tags: Events, Grades 9-12, Programs for Girls, Society for Women Engineers, Weekend programs, Women in Engineering, Workshops