Posted on
January 26th, 2018
by Mary Lord
From 360-degree cameras that show what a player sees to "green" stadiums that feature solar panels and reclaimed water systems, the Super Bowl offers plenty of engineering feats to cheer about. Engage your students with eGFI's roster of hands-on design activities, videos about forces, motion, and other gridiron-related science concepts, and feature articles about STEM and football.
Activities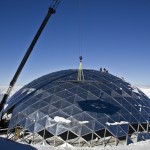 Design a Super Dome [Grades 3-12]
Student teams learn about construction and engineering design by building a domed structure with an internal frame that is strong enough to support 120 grams of coins or candy on top. They present their domes to the class and complete reflections on the lessons learned.
Naked Egg Drop [Grades 3-6]
Paris of students experience the engineering design process by building and modifying devices to protect and catch a "naked" egg as it is dropped from increasing heights. The activity scales up to district or regional egg drop competitions.
Construct a Space Helmet [Grades 5-8]
Students in grades 5-8 learn about inertia and momentum as they design and construct a padded space helmet for egg astronauts. They test the strength of their construction and evaluate their results.
Punting and Projectile Motion [Grades 5-8]
Students use a hands-on activity, an online video from "Science of NFL Football," and a computer simulation project to learn about projectile motion and how variables affect a projectile's range and time in the air. Students apply what they learn from the simulations to analyze punting strategies in different situations.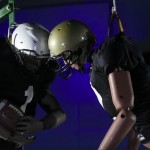 Safety Gear & Helmets [Grades 5-8]
Students learn the basic engineering issues related to helmet design, specifically, the physics of collisions and the biomechanical considerations of design. They then will identify and solve a design challenges, create a poster representation of their solutions, and present them their peers. They also learn about the dangers of not wearing a helmet in certain sports, and explore the reasons that people do not wear helmets.
Torque in Daily Life [Grades 5-8]
Students are introduced to the concept of torque through a short NBC Learn video on the science of the NFL, demonstrations, and a lab activity. Students learn how to calculate torque and determine how it is used in simple machines, everyday life, and in sports.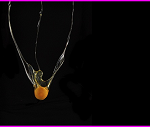 Egg Drop [Grades 5-12]
The egg drop is a fun and dramatic way to get students involved in engineering design. After a discussion of safety features, students experiment packaging an egg to produce a design that will allow it to fall from a considerable height without cracking.
Video Resources
The 10-part video series Science of the NFL, created by NBC Learn and the National Science Foundation, features contributions from football players and scientists, and is aimed at teaching students concepts such as nutrition, kinematics, and projectile motion. It includes accompanying activities to get students thinking about the science and engineering behind forward passes, touch-downs and powerful field goal kicks.
I'm an Engineer and a Football Player Dartmouth linebacker Lucas Hussey, who graduated with an engineering degree  '11 Th'12 on his experience with playing football while majoring in engineering and the advantages of Dartmouth's fifth-year Bachelor of Engineering program. Hussey is a member of the Phi Beta Kappa honor society and was a semifinalist for the William V. Campbell Trophy, which is given to the best football scholar-athlete in the country.
I'm an Engineer and an NFL Player. Vernon Harris, a 2016 graduate of Dartmouth's Thayer School of Engineering who was drafted by the Kansas City Chiefs, talks about balancing his studies with playing pro-level football.
Atlanta Falcons' high-tech stadium. Time lapse video
Minnesota Vikings US Bank Stadium time-lapse construction. YouTube video includes interviews with engineers who designed the electrical systems. A shorter NFL official video shows a time lapse of the construction phased.
eGFI Features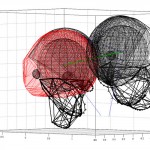 Engineering Football Safety In the movie Concussion, Will Smith plays a Pittsburgh pathologist who uncovers a link between  concussions and brain damage in pro football players. Engineers can't change behavior. But they can design better helmets and other gear to reduce injuries. Some engineering students even play the game!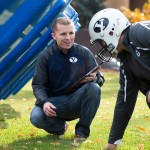 Student's Invention Could Prevent Concussions. Brigham Young University engineering student Jake Merrell has created a "smart foam" that could be placed inside the helmets of football players to measure the impact of hits to the head, and could help prevent concussions while players are int the game.
 Thankful Engineering What does engineering have to do with Thanksgiving? Plenty, including football broadcasting technology and meatless Tofurkey, among other holiday delights.
Articles
Building a Super Bowl. Berkeley Engineer Nov. 1, 2013 feature on the University of California, Berkeley engineering talent that went into building Levi's Stadium, the National Football League's first LEED Gold certified stadium.
The Cameras That'll Make the Super Bowl Way More Interesting This Year. Wired's Jan. 27, 2016 feature looks at the souped up Sky Cams, new Eye 360 replay camera that can provide a first-person view of any player on the field, and other wizardry – like the pylon cam that Marcus Mariota's dive took out in the 2015 NFL video, above – that debuted at Super Bowl 50.
Filed under: Class Activities, Special Features, Web Resources
Tags: Class Activities, concussion, Curriculum, Football, forces, helmets, inertia, Internet Resources, motion, Resources for Teachers, Safety engineering, Sports Engineering, STEM education, Super Bowl, torque