Posted on
January 25th, 2010
by Jaimie Schock
Girls in high-school science classes generally were "bored, disengaged and stressed . . . compared to boys,"a recent Northern Illinois University study found. That was despite the fact that all of the students invested the same amount of time to the classes, and that the boys and girls received similar grades, the Chicago Tribune reported.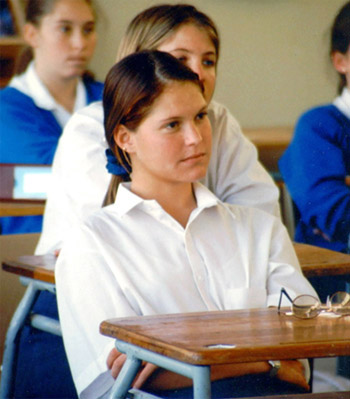 The results may shine a new light on why so few girls go on to careers in science and engineering. Only 26 percent of America's scientists and engineers are women, the National Science Foundation says. The Northern Illinois study involved 244 students and 13 teachers. All students were given a vibrating pager, and at any point in a class or lab, if they were alerted by their teacher, they had to immediately write down what they were doing and thinking, and rate their engagement, anxiety and concentration levels. Girls reported feeling most engaged during lectures or when completing work. Boys, the study found, often took the lead in labs, and girls would mainly stand by and watch.
So, why are the girls bored? One reason may be teacher attitudes, albeit subconscious ones. Each teacher was asked to pick a star pupil, and only two of the 13 picked girls. In interviews the teachers, who were a mix of men and women, typically described their best male students as "naturals" who "just got it." The top female students were usually described as "hard workers." The teachers, nevertheless, insisted they treated all their students alike.
Filed under: K-12 Education News
Tags: Programs for Girls, Research on Learning, Women in Engineering