Posted on
December 1st, 2010
by ASEE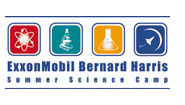 Dates: Summer, 2 weeks. Location: Various college campuses, check website for details. Eligibility: Students in grades 6-8. Cost: Free.
The ExxonMobil Bernard Harris Summer Science Camp (BHSSC) is a free, academic program for students entering grade 6,7, or 8 in the fall of 2010. Held on college campuses across the country, these 2-week residential camps provide activities, experiments, projects, and field experiences to enrich students' mathematics, science, technology, and communication skills. The camps introduce students to college life and stimulate their interest in science and engineering as a potential career path. Campers attend classes that include problem solving, study, research, writing and communication skills incorporated with biology, chemistry, physics, design concepts, and field excursions. Certified classroom teachers and university faculty teach the classes. Students currently in grades 5-7 (6-8 in fall 2010) who have at least a B average in science and math are eligible.
This camp program was originally developed as a collaborative effort of the Harris Foundation, the Houston Independent School District, the University of Houston (UH) and the Southwestern Oklahoma State University (SWOSU), designed to support historically underserved and underrepresented students with limited opportunities.
Applications for summer 2011 open February 2011. Please check the Website for more, and updated,  information.
Filed under: Grades 6-8, K-12 Outreach Programs
Tags: Grades 6-8, STEM subjects, Summer Camps & Programs (Students), Summer Programs (Students)