Posted on
February 10th, 2011
by ASEE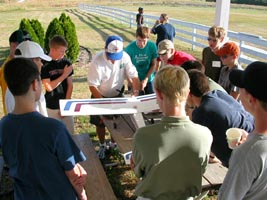 Dates: July 17-23, 2011 . Level: Grades 9-12. Location: University of Illinois At Urbana-Champaign. Cost.$700.  Application Deadline: April 15.
Illinois Aerospace Institute summer camp – IAI
IAI is a one-week residential program for students  grades 9-12  interested in learning about the fields of aerospace engineering and aviation.Though most of the students who attend are from the Midwest, students come to us from all over the U.S. and internationally. Many have some sort of experience with the aerospace field, through model rockets, remote control airplanes, or having a family member who is a pilot, but no experience is necessary; just an interest in learning about the field of aerospace engineering.The Institute is held on the campus of the University of Illinois At Urbana-Champaign. Students stay at in a University Residence Hall with live-in camp councelors. Students will learn about a variety of topics regarding aerospace engineering through classroom sessions, laboratories, demonstrations, and hands-on activities.
COSTS: The $700 fee includes lodging, all meals, and instructional costs. A deposit check for $100 must accompany the application. The deposit check will be refunded if the application is not accepted.  The $600 balance is due June 17, 2011.  A $10.00 cancellation fee will be accessed if the cancellation occurs after acceptance.  No refunds will be made after June 17, 2011.  Limited financial aid is available based on need.
TO APPLY: Applications must be postmarked by April 15. Enrollment is limited, so register early.
The Illinois Aerospace Institute is sponsored by the Department of Aerospace Engineering at the University of Illinois and NASA's Illinois Space Grant Consortium. To apply, send the completed application form, along with:
• List of coursework in math and science, including grades
• Letter of recommendation from a math or science teacher
• Letter describing your interest and experiences in astronomy, aviation, or aerospace
• $100 deposit using one of the following payment options:
• Pay by check made payable to: The University of Illinois
• Pay by credit card via the National Space Grant Foundation and include a copy of your receipt
Please see the Website for more, and updated information.
Filed under: Grades 9-12, K-12 Outreach Programs
Tags: Aerospace, Aerospace Engineering, Aviation, Summer Camps & Programs (Students), Summer Programs (Students)