Posted on
August 9th, 2013
by Mary Lord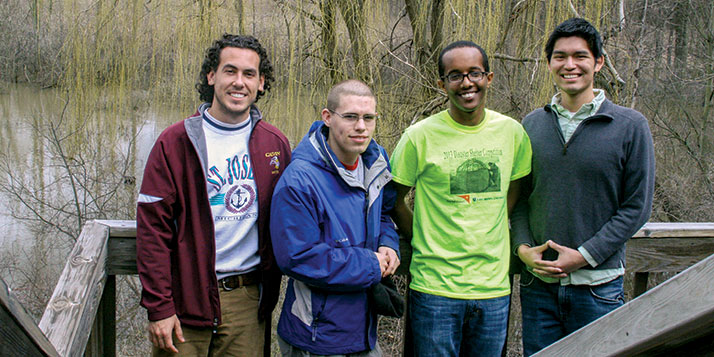 photo courtesy of Calvin College
Senior design projects are a common feature of the engineering undergraduate experience, but few ever go further than the classroom.
Not so for four Calvin College civil and environmental engineering students. Their capstone project – a disaster shelter – took top honors in a national contest.
In April, Dan Nederhoed, David Headley, Walta Asfaw, and Nick Liza (pictured from left to right, above) packed their disaster shelter into a Dodge Caravan and drove 13 hours from Grand Rapids, Mich., to John Brown College in Arkansas for the 2013 World Vision Disaster Shelter Design Competition. The  contest aims to find sustainable short-term living solutions for people who have experienced a hurricane, tsunami, earthquake or other disaster.
The Calvin students created their shelter for Indonesia, where people were left homeless and whole villages were wiped out by a tsunami and earthquakes in both 2004 and this year. Their PVC structure anchored by stakes and sandbags "gives them a little bit of a place so they can begin rebuilding their lives," Nederhoed said.
The shelter endured a shake (earthquake) test and gusts of 50 mph, as well as a having a "simulated victim" – a student volunteer – spend the night in it.  Structures also were judged for cultural appropriateness, which is why the Calvin students used local soil in their shelter's sandbags.
Engineering professor David Wunder, who had encouraged the students to enter the competition, admired the simplicity and elegance of their design. "The team used relevant  and sophisticated engineering analyses to address real needs of a hurting world," he said.
Structures from the University of Louisiana at Monroe (which finished second), LeTourneau University, Judson University, John Brown (which finished third), and other institutions were represented.
Watch a video of Calvin's winning team of engineers or read the college's news feature which informed this post.
[youtube]http://www.youtube.com/watch?v=MvVN-0QwW04[/youtube]
Filed under: Special Features
Tags: Civil Engineering, Competitions for Students, Contest, design competition, design contest, disaster shelter, engineering students, environment, Environmental Engineering