Posted on
November 21st, 2010
by ASEE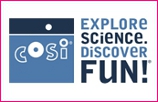 Date: December 14, 2010. Level: Students in grades 3-6. Subjects: Electricity, Magnetism, Senses, States of matter, Physical and chemical change, Light. Cost: $165 per school. Includes a test connection, the session and biographical & subject information. Extra kits of materials (for elementary classes larger than 30) may be purchased for $35 each.
Program
Magic for muggles! Learn how some of Harry Potter's magic is possible with modern science, through re-creating magic spells and phenomena using chemistry and physics. Elementary school students join COSI demonstrator, Ryan Westhoven, as he explores the incredible world of Harry Potter through amazing demonstrations and interactive hands-on experiments.
Students should prepare questions in advance, based on the information sent to the teacher. The test connection for this program is scheduled on December 10, 2010 at 2:00pm ET.
Learn more about the program online
Necessary Equipment
You need full motion videoconferencing equipment. This technology allows COSI and your class to see and hear each other in real-time. Common manufacturers of this equipment include Tandberg, Polycom, and PictureTel. This is not webcasting, so you need more than a camera and a computer.
Filed under: K-12 Outreach Programs
Tags: Science museum, Videoconference, Webinar