Posted on
December 30th, 2013
by Mary Lord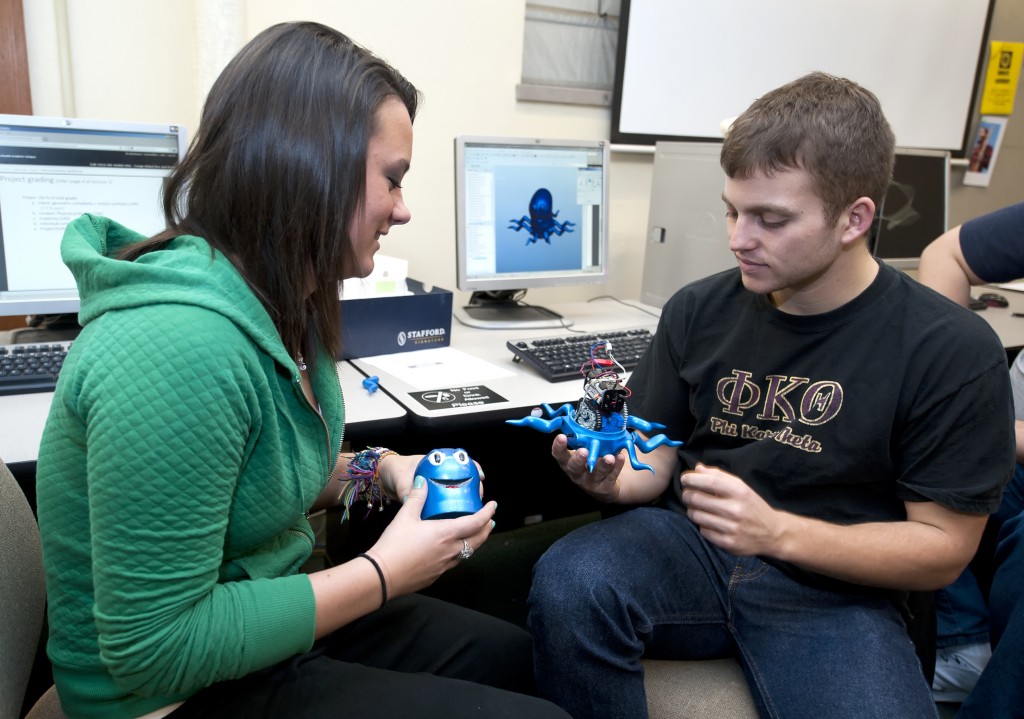 Can toys inspire more kids – especially girls – to become engineers?
Students in mechanical engineering professor Karthik Ramani's computer-aided design class at Purdue University think so. They are designing high-tech educational toys to challenge the "pink aisle" assortment of dolls, kitchens, and other toys aimed at girls. This fall's offerings included Factory Floor Wars, a competitive board gear-stacking board game; Crazy Fountain, a 3-D cross between pinball and Skeeball; and toys that use iPad and smartphone technology.
Carmen Valverde-Paniagua, a mechanical engineering senior, picked gender-neutral colors for Krusty Krab Katastrophe, the action board game featuring popular Sponge Bob cartoon characters her team created in Ramani's class.
Watch Purdue mechanical engineering students demonstrate Krusty Krab Katastrophe:
[youtube]http://www.youtube.com/watch?v=mQauj75rDZw[/youtube]
"We all play," Ramani told the Fort Wayne News-Sentinel. "The only thing is you don't call it play when you get older. The more work becomes play, the better they learn. The trick in these designs is when they play, they don't even know they are learning. That's the best way of learning."
Meanwhile, a team of Arizona State University engineering students have formed a start-up company to bring the robotic car they designed for a class project to market. And Penn State first-year engineering students in the "Toy Fundamentals" first-year seminar designed toys for local preschool children.
Filed under: K-12 Education News, Special Features
Tags: engineering education, engineering students, Mechanical engineering, Purdue, toy engineering, toys