Posted on
November 29th, 2011
by ASEE
ESTEEM (Engineering Science and Technology to
Energize and Expand Young Minds)
Offered by the Center for Minorities in Science and Engineering for rising High School Seniors, ESTEEM is a two-week research methodology seminar with lab demonstrations, lab tours, lab experiments, a computer/internet workshop, and a SAT Workshop. Students who participate in the program will have the opportunity to have an academic year-long independent research project with an engineering faculty member.
| | |
| --- | --- |
| | E2@UMD students participate in a variety of activities hosted by the Clark School departments. Here, Dr. Nam Wang, Associate Chairman of the Department of Chemical and Biomolecular Engineering, demonstrates how to extract iron powder from oil. |
| | |
Exploring Engineering at the University of Maryland (E2@UMD)
E2@UMD is a one-week summer program for high school women (rising juniors or seniors) who are considering engineering as a possible major and career. You will live on campus for one week and explore the world of engineering through fun hands-on activities, laboratory experiments, informative workshops, team LEGO challenges and seminars with professional engineers.
SAT Strategies Workshop
This program is open to all rising 10th, 11th and 12th grade students. The focus of this workshop will be on successful test-taking skills and reasoning strategies to help students maximize their score on the SAT. Topics will be presented relevant to the math, verbal and new writing sections of the test. The program provides 40 hours of instruction, a pre-test and a post-test, as well as periodic evaluations to gauge student progress throughout the workshop. Choose from two sessions that will be offered, one in the morning and the other in the afternoon. Textbooks, supplemental materials and snacks are included.
Young Scholars Program
The Young Scholars Program is for high schools students (rising juniors and seniors). The program lets you experience college life first-hand by choosing one three-credit, college-level course. And you'll continue learning outside the classroom, with evening seminars on college admission and scholarship application strategies, field trips and social events. Three courses of interest to budding engineers are ENES100: Introduction to Engineering Design, ENES140: Discovering New Ventures-Foundations of Entrepreneurship, and ENES 104: Introduction to Materials and their Applications-What Are Things Made From?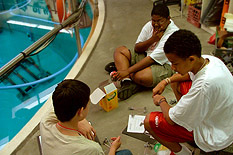 WIE LEAD Academies
The Women in Engineering Leadership Enhancement, Application and Design Academies provide students with the opportunity to spend 1-2 days learning and applying principles related to a particular engineering discipline found at the University of Maryland.
Filed under: K-12 Outreach Programs